Temple of Kameswar Mahadev & Parvati mataji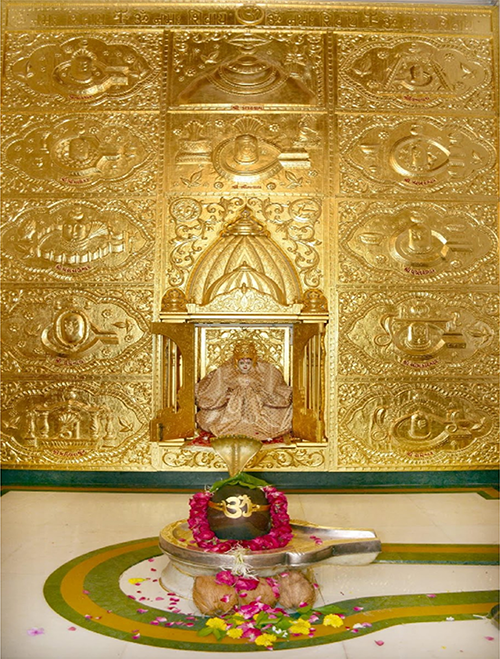 At Shri Kameshwar Mahadev temple, Goddess Parvati mataji is in a Golden Gokh located at Garbh-gruh and surrounded by symbol of 12 (Twelve) Golden Jyotirlings. Jyotirlingam is a Sanskrit word means the pillar of light. It signifies powerful places where Lord Shiva is worshipped. There are twelve (12) jyotirlingam in India located at different places such as Somnath in Gujarat, Mallikarjuna at Shrishailam in Andhra Pradesh, Mahakaleswar at Ujjain in Madhya Pradesh, Omkareshwar in Madhya Pradesh, Vaidyanath in Paralya and Bhimashankaram in Dakniya. Rameshwara in Sethubandh and Nageshem (Nageshwar) in Darauka-Vana. Vishvanath in Vanarasi and Triambakeshwar at bank of Gautami River. Kedarnath in Uttrakhand, Dhrusneswar at Aurangabad, Maharashtra.
Shri Kameshwar Mahadev is a Lord Shiva, a major Hindu God known as Devona Dev Mahadev, the destroyer and the most powerful and fascinating deity. He is so kind that any one, any time, any place, if you remember him, pray him or ask his help, you will realize that he is standing with you and always ready to help you and protect you. That's why he is very famous as a Bholenath. He is regarded as the most powerful and Supreme God.
Parvatimataji is the Hindu goddess. She is known as powerful Shakti, goddess of power, and the mother of Lord Ganpati and Kartikey. She is the one who gives life energy to all beings and without her kripa all beings are lifeless.
Before Garbh-gruh the Nandi and Tortoise are set up and near entrance , Lord Ganpati and Vir Hanumanji's beautiful eye catching idols are set up.
Around and outside the temple, small Gokhs are arranged where different swaroop of Lord Shiva are installed such as Shivnarayan, Ardh-Nareshwar and Sadashiv. All swaroops are noticeable and beautiful.
Temple of Amba Mataji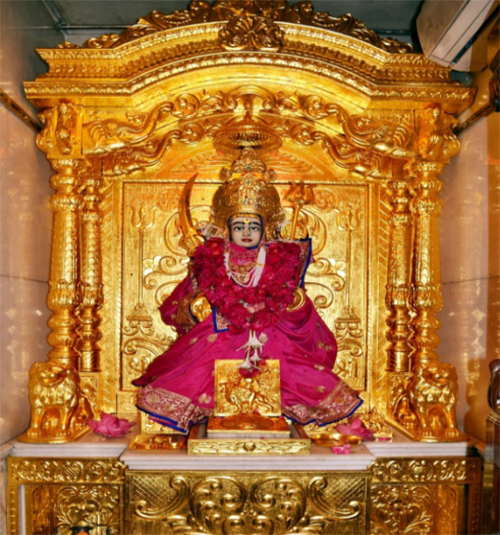 Adjoing to one side of Kameshwar Mahadev Temple, Goddess Amba Mataji temple is located.Goddess Amba mataji is sitting on a golden sinhasan.Every day you will find her with new sari, new ornaments, new dress etc. It is notable that devotees has donated gold for her sinhasan. Goddess Amba mataji is known as Adhyashakti (original energy force). On worshipping, she grants energy, destroy one's worldly obstacles and gives happiness, wealth and peace to all mankind. She is always ready to help her devotees at any time, at any place. Around her temple small Gokhs are arranged where her different swaroop such as Annapurna and Tripurasunderi are installed. All swaroops are noticeable and beautiful.
Temple of Raja Ranchodji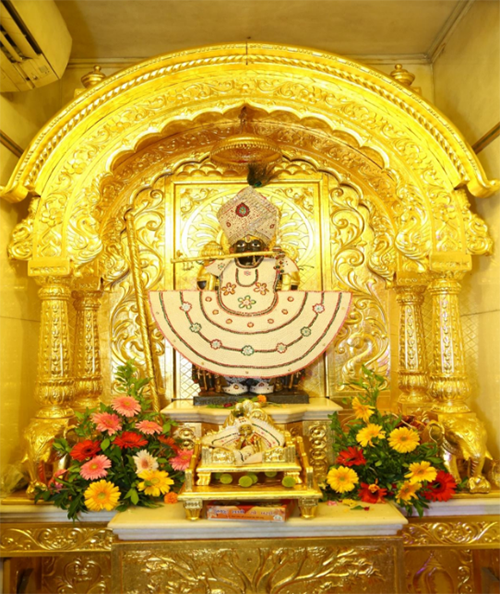 Adjoing to another side of Kameshwar Mahadev Temple, Lord Ranchodji temple is located.The Ranchodji is standing on a golden sinhasan.Every day you will find him in a new dresses –waghas. The devotees has donated gold for his sinhasan. The form of Lord Ranchhodrai is that of the Lord Vishnu with four arms. He bears the conch, lotus, chakra and the mace in his hands. The lower right arm is held up in the abhaya mudra - giving protection to all those who come to Him. The Ranchodji is worshipped as Krishna, as Dwarkadhish or as a Yogeshwar. His right hand is often shown to hold a flute - a favorite instrument during his younger days. He has unlimited desires to enjoy spiritual loving relationships of pastimes, known as leela. Outside the temple small Gokhs are arranged where different swaroop of Lord Ranchodji is installed in form idol such as Madhusudan and Krishna. All swaroops are significant and beautiful.
Other Small Deri.
Bhairavdada Deri
At the enterance of Kameshwar temple, at right side small temple of Lord Bhairavdada is located. Bhairavdada is standing on a golden sinhasan. He is also known as a Kala Bhairava. He is a living angry form/avatar of Lord Shiva who manages time. Those, who want to use every moment effectively and intelligently, want to improve their time management skills do this, on worshipping can get divine help of Bhairavadada. He is widely worshipped by tantriks and yogis to gain various siddhis. He is regarded as the protector or as a kotwal. Worship of Lord Bhairav is very useful to win over your enemies, success and all materialistic comforts.
ShitlaMataji Deri
Shitala is the form of goddess Katyayani (Adi Shakti). She gives coolness to the patients of fever. Shitala literally means "one who cools" in Sanskrit. Shitala is more often called Ma - mother and is worshipped by Hindus, Buddhists and tribal communities. In some traditions she is identified with an aspect/ form of Parvatimata. She is also known as Karunamayi - full of Mercy and full of Grace and Kindness. On worshiping, she helps to cure world from all fevers and diseases such as cholera, dysentery, smallpox and all children diseases etc.
Balia bapa Deri
Adjoining to Shitlamata, a small temple of Balia bapa is there. The Legend of extraordinary warrior BARBARIC that become Baliya Dev.
Balia bapa is still considered to be desire to complete the thought. He has a crown on atop the head of deity and carefully look just like an intrepid soldier with a long tilak at forehead.
Hanumanji Deri
Ko nahi janat hai jagme kapi, Sankat mochan nam tumharo. In Kalyuga, the 11th avatar of Lord Shiva, Hanuman is worshipped the most. This is why Lord Hanuman is also believed to be the powerful living God of this yuga. Whatever may be the problem of a devotee, Lord Hanuman immediately solves those problems. He has a magical power and people visit them in millions.
Lord Shiva
Lord Shiva statue is placed on his gorgeous and pleasant standing style, possessing Ganga mataji on his head and with Trishul, Damroo, kamandal on his hands. It is nicely decorated with plants and lighting system, which enhance the beauty of temple.